Blog Traffic from Newsletters

Blog Traffic from Newsletters
This is probably one of the most underrated ways to make money as an Affiliate.
In my opinion Newsletters are one of the best ways to make money on the back end with your affiliates.
The key is getting your visitors to subscribe to your autoresponder.
Remember Content is King
The King is always first. Everyone follows the King.
And so should your visitors be lead by content.
Break Down
You want to give your readers a reason to subscribe. The more you give, the more you will receive.
A great way to do that is by using the 4 to Rule. For every 4 newsletters you send of content, send one affiliate offer.
This can differ depending on your audience. You may be able to send more affiliate offers. Some marketers even put one affiliate offer in each newsletter.
I personally take the 3 to 1 approach. I send 3 fully content packed newsletters and then 1 newsletter highlighting some good affiliates.
Once you have provided some great useful content, your readers dont have a problem trusting any of the affiliates you promote.
Never promote an affiliate you dont think will work or help.
Even if it makes you money, it will kill your credibility.
Another great idea is using the content Sandwich.
First newsletter content, next the affiliate newsletter and last content again.
You want to surround your affiliate offer by supportive content.
This will also increase the Traffic coming back to your website or blog. The more Traffic you receive the more people you will pull into your funnel.
The more people in your autoresponder , the more money you will make.
There are many different autoresponder companies but there is one autoresponder that is well above everyone else.
Kenny's Honorable Mentioned
Blog Traffic Tips ~ It's a TRAFFIC Jam!– A page I created to teach you multiple ways to get traffic to your blog or website.
Aweber– The best autoresponder you can use for your website or blog.
Newsletters– are very good for making money with your affiliates.
 
Like, Share, and Comment! 
Let me Know what you think?
Also don't forget connect with me on other social medias as well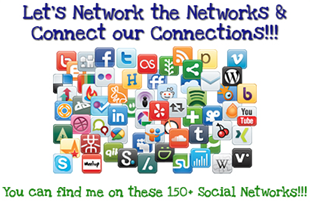 List of 150+ Social Media Networks!!!