2 Tips Used To Get 51,000 More Instagram Followers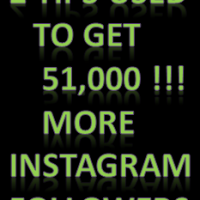 2 Tips used to get 51,000
Tip  #1 – For More Instagram Followers-
 
Its very True! A picture says a 1000 words. 
Well in some cases just a few.  I will tell you how to post better pictures with Text Later in this page. 
Let's Get To It!!
If you want more Instagram followers, give people a reason to follow you. 
You give people a reason to follow you by doing the following…
~ Posting Better Pictures
~ Connecting with More People
~ Connecting all of your Social Media Networks. 
~ Using proper Instagram Tools.
Want Viral Results, Do Viral Things 
Its Simple. People Pic Pretty Pictures. 
Diversify your the pictures and post what works. 
We have to remember we love our things more than the people viewing our pictures.
It's Important to think 
LARGER
 than your set of friends.
By posting pictures only you and a small group of friends like will get you exactly that. A small group of followers and a small amount of likes.
Its nothing wrong with that.
But if you want to Attract more, post pictures that more people are attracted to. 
Here is a list of picture types that have the tendency to

go viral

. 
– Women Shoes (I know thats Random)
Pay attention and make a list of everything that works for you. 
Also if you notice the pictures that go viral
are all very simple pictures with one or two small tweaks to them. 
An example would be a picture of a child with some type of cute text on the picture.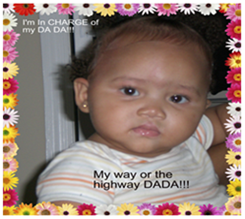 The sad thing about this is my baby girl really do feel this way. SMH (Shaking My Head)

This is very easy to do. Go to your PhotoShop, upload the picture, add whatever text you want, and Whoop There It Is!!!
It should be a goal of yours to make every picture look good. Trust me, the extra 4 mins will make a HUGE difference! 
Connecting your Connections and
Networking your Networks!
This is a very underrated and under looked way to get more Instagram Followers. 
Its such a simple concept. 
If people Like you on Facebook , follow you on Twitter , Connect with you on LinkedIn , Its a great chance they will follow you on Instagram . Its important to have options for people to follow you on Instagram from your other social networks, websites, blogs,etc. 
You can use a badge like the one side bar of this blog. 
I personally use my XeeMe profile ( A Free Social Network where you can put all of you Social Networks on one profile.) You can set up your own by clicking the XeeMe Icon on my profile.    LIST OF SOCIAL NETWORKS
It has been very effective for connecting with people on multiple 
Social Networks such as Instagram. 
Going HAMmer on Instagram.
Instagram Tools
We discussed using PhotoShop earlier to make a better looking picture. 
Here are some other tools to use on Instagram. 
Tip # 2 – For More Instagram Followers –
 
Simple Basics!
Simple Basics will get you more Instagram followers!!!
Don't forget to do the Simple things that Work. 
Set Your Instagram Account to Public 
Here's How..
 
Got to the Privacy option on your Instagram profile and make sure your Privacy option is turned OFF.
This option is under the settings Tab.
This will allow your photos to be followed and viewed by other Instagramers.
Use Hash Tags for better search results 
I dont care if you Hashtag the Hashtag, but its important to use them.
 
GeoTag all of your Instagram Photos 
Following other Instagramers 
Following other Instagramers will bring you more Instagram followers. 
It's almost like the Twitter effect. 
You almost feel obligated to follow someone who is following you. 
The more interesting you photos are the more people will want to follow you back. 
Follow Instagramers who post similar pictures as you.
People are attracted to those they have something in common with as well as similar interest.
Complimenting pictures 
Tell me one person who doesn't like compliments. 
The more compliments you give out the more that person will want to receive them. 
This is one of the BEST ways to get more Instagram followers. 
People want to be where they are praised. 
So Fire Away with the compliments, people will continue to come back.
Invite all Friends 
You will be surprised who has an Instagram account. 
Invite all your friends to join you on Instagram. 
If they do not have an Instagram account, encourage them to do so and to follow you.
Instagram will give you options on finding friends from Social networks, Importing a Contact List, as well as searching them by name. 
Connecting your Instagram Account to all of the social networks you are a part of will be a for sure way to get more Instagram followers. 
The more social networks, the better, this will allow you to be seen by more people. 
This gives you a better opportunity of your photo going viral. 
Email List and Newsletter 
You can include your Instagram information in your Email List and weekly or monthly Newsletter . 
Posting Regularly But Not over Posting 
You want to post often and regularly but you don't want to over post to where others are taking it as spam. 
Try not to post more than 5 pictures a day unless it's all from One Trip or Traveling experience.
Do what WORKS!!!! 
Look at what other popular Instagramers are doing and copy it. 
Add your own personal touch to it. 
You don't want to have the exact same picture or content someone else has but maybe the same concept. 
If it's working for someone else, It might as well work for you!!
Kenny's Honorable Mention
If you are going to be on Instagram all day.  You should at least make some money doing so!
InstaProfitGram– A great guide that teaches you how to make money on Instagram.
Start A Blog That Matters– The #1 Tool for building a profitable blog.  The guide provides detailed instructions from Start to Finish. 
 
Blue Host– By far the best place to setup and Host a Blog.
 
Let me Know what you think?
Also don?t forget connect with me on other social medias as well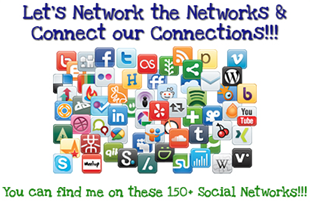 List of 150+ Social Media Networks!!!