Full Guide to Triberr ~ Kenny's Triberr Guide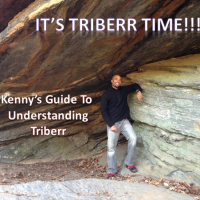 The Whole Triberr Guide For Free
Keep in mind this is a previous guide so some things may have changed…But still a lot of Great Tips!!!
 
 Author: Kenny Boykin
© All Rights Reserved
DISCLAIMER
The information presented herein represents the views of Kenny Boykin as of the date of publication. Because of the rate with which conditions change, the author reserves the rights to alter and update his opinions based on the new conditions. This manual is for informational purposes only and the author does not accept any responsibilities for any liabilities resulting from the use of this information. While every attempt has been made to verify the information provided here, the author and his referrals cannot assume any responsibility for errors, inaccuracies or omissions. Any slights of people or organizations are unintentional.
This publication is not intended for use as any source of advice such as legal, medical, or accounting. The publisher wants to stress that the information contained herein may be subject to varying international, federal, state, and/or local laws or regulations. The purchaser or reader of this publication assumes responsibility for the use of these materials and information. Adherence to all applicable laws and regulations, including international, federal, state and local governing professional licensing, business practices, advertising, and all other aspects of doing business in the EU, US, Canada or any other jurisdiction is the sole responsibility of the purchaser or reader.
Neither the author nor the publisher assume any responsibility or liability whatsoever on the behalf of the purchaser or reader of these materials. Any perceived slight of any individual or organization is purely unintentional.
This book is should serve as a reference only with no guarantee to any personal or financial gains. Results from usage of materials described in this book may vary. By reading this material, you agree that the author is not liable on any consequences arising from usage of this
 
 
It's Triberr Time!!!
 
Kenny's Guide to understanding Triberr
Table of Contents
 
What is Triberr
How does Triberr Work
How to Set Up Triberr
How does Triberr Work
Good Things To Know
How to Get Into The Tribes You Want
How to Attract People to Your Tribe
How To Get More Invites
How To Increase Your Triberr Reach
How To Be Active In Multiple Tribes
How To Get More Content Shared
How To Make Money On Triberr
What is Triberr
 
Triberr is a social community that connects bloggers.
It's truly a one of a kind social platform for bloggers of all subject matters.
Triberr is a blogger's community that specializes in distribution of content across social media networks.
A Network of Networks
The networks or groups are called tribes.
The number of members in each tribe will depend on the type of membership you have.
Types of Memberships
Free Membership
With the free membership you…
– You can own up to 3 Tribes
– Each Tribe can have 30 members
– You are allowed 2 RSS feeds
 
 
– You can share 14 post per week
– You are allowed up to 100 approvals
 
Prime Lite Membership
– You can have up to 7 tribes.
– Each tribe can have 50 members
– You are allowed 4 RSS feeds.
– You can share 28 posts per week.
– You are allowed 120 approvals.
Prime Lite Membership is $10 a month
Prime Membership
Why I like the Prime Membership
I feel like you really get the bang for your buck. I personally have the Prime Membership.
– You are allowed up to 12 Tribes, so you can really be creative with the Tribe choices.
– You can have up to 75 members per Tribe.
– You get 49 posts per week, which is more than enough to get your content to the masses.
– You are allowed 140 approvals
– You can auto share 100 of your Tribe mates
– You get an Atomic Tribe that can have up to 500 members.
$40.00 a Month
How to Set Up Triberr
 
Triberr is free to join.
Connect your Twitter account with Triberr.
Go to Settings and update your profile information.
Your Profile picture will be the same one you use for twitter. Your accounts will be linked.
Connect your blogs RSS feed. Enter your blog's url where it says Blog url.
Connecting your blog will allow you to share post directly from your blog. If you have more than one blog url, you have a choice on which tribes to connect them to.
Connect your social media networks.
Triberr will give you the option to connect Facebook, Twitter, and LinkedIn.
How does Triberr Work
 
Your Blog or Blogs' RSS Feed
Anytime your blog or blogs' RSS feed is detected, it will automatically submit your latest post.
In the case your RSS feed is not detected you can manually submit your post.
Sharing Options
Bloggers are given options to share content from other bloggers on multiple social media platforms.
~ Facebook ~Twitter ~LinkedIn ~StumbleUpon ~Google Plus ~Pinterest
The Reblog feature
By Reblogging your post, you give other bloggers an opportunity to share your content. This is a very good tool for obtaining backlinks to your blog.
This feature is used with self-hosted WordPress Blogs.
Manually Importing Post
If you ever have to manually submit a post….
Go to Setting
Next
Go To Blog Settings
Click
Click Manually Import
Now
Wait
Changing your Profile Picture
Triberr is connected to your Twitter account so whenever you update your profile on Twitter, it will automatically update it on Triberr.
It could take some time to change or update on Triberr.
Accepting Invites
Click the Tribes button, located on the top navigation bar.
All new invitations will appear on the left side of the page.
You are presented with 2 options.
Accept or Decline
I personally accept all invites, but that is solely up to you.
The more places I can share my content, the better the chances of getting visitors to my blog.
The downside to that is interaction with each tribe, but I will tell you some tips and tricks later in the book on ways to stay active in multiple tribes.
Commenting
Be very careful with commenting. The owners want to make sure comments aren't short and meaningless. If it is perceived as a spam comment, it could land you in a trip to Triberr jail which will revoke your ability to use the comment feature.
How big is Triberr you ask???
– Over 50,000 tribes with over 2 million visits to the blogs from Triberrers per month.
 
How to Get Into The Tribes You Want
 
Flattery
The same concept used to get anything else in this world. Some may call it "brown nose'n" but do what works.
First
Before you ask to join the tribe, start sharing the tribe owner's content.
We all love for our content to be shared and complimented. This will also let them know you will be an active member.
Share
Triberr gives you multiply platforms to share content…
– Tweet their post
– Share on Facebook
– Share on LinkedIn
– Share on Google Plus
– Share on Pinterest
– Stumble their post
 
Let them know you liked their content in the comment section of their blog or on Triberr's comment section. A comment on a blog may be a little more personable which is a great thing.
If you really want to impress them, give them a shout out in one of your blog post.
I personally love to share links of great blogs I come across. This is one of the best ways to repay a blogger for the time used to create great content for you to enjoy.
How to Attract People to Your Tribe
 
1st Things 1st
The name of your Tribe is everything!
This will be the first thing people see.
Try to make it catchy.
Give people a reason to join
At the end of the day, people want their content to be shared. So the concept of having their content shared will always catch their attention. If it is a common interest of the searching blogger, they will be more likely to join your tribe.
Bonfires
Bonfires are great places to present your tribe to possible tribe mates.
Post a comment…
Example
"I would like to invite all pet lovers to my Tribe." "I would love to connect and share the content of all pet lovers"
Invite
Send them an invite. (Remember to use the techniques of flattery)
Invite other bloggers from similar tribes.
"I would love to connect with you here on Triberr."
Post your link to your tribe.
Respond
Respond to all shares and comments. If they are not already in your tribe, let them know you would love for them to join your tribe. Send them an invite to join your tribe.
How To Get More Invites
 
The more Triberrers you connect with, the more invites you will receive.
Also sharing other bloggers content will make them want to have you in their tribes.
Great ways to connect
– Commenting
– Posting comments within the tribe
– Inviting bloggers to your tribe
 
Word to the Wise
Tribe mates and Chiefs will not be very happy if you are not active in the tribes.
The might also remove you.
I learned this lesson the hard way.
But
I do have tips for staying active in multiple tribes coming up.
How To Increase Your Triberr Reach
 
Why???
More Tribe mates Equals
• More Twitter Followers/Retweets
• More Facebook Likes/Followers
• More LinkedIn Shares/Connections
• More Pinterest Followers/Repins
• More Google Circles/Plusses
• More Stumbles
 
Brutal Truth
The amount of Twitter followers will be a determining factor when it comes to getting into and being invited to Tribes.
Because it is important for bloggers to get their content to as many people as possible, your Twitter reach is essential.
So if you don't have a lot of followers you may not be seen as a valuable asset.
But No Worries
This just means you have to up your Triberr reach by adding a little more flattery.
Ways to Improve your Triberr Numbers
Starting with those with few Twitter followers:
It would be wise to start a few Tribes.
Invite people whom you know will join for a fact.
Focus on other Tribes that may not have a lot of Tribe mates. Also direct your focus to Triberrers who do not have a lot of Twitter followers. I mean you don't want to focus on someone who only has 2 followers but…you get the point.
New members to Triberr are also good bloggers to look for. They will be fast to join your tribe.
Check inside of Tribes for postings that say "I am new to Triberr". They will be very likely to accept your invites if you simply reach out.
As your Tribe reach grows, so will your twitter followers.
Now you have some leverage.
You can now use flattery to pitch some of the Triberr Heavy Hitters.
For Bloggers who have a lot of followers:
This process will be easier for you. You can use your following as leverage.
You will also want to start some Tribes.
You can go after some of the larger tribes and Triberrers with larger reaches.
For Both
Use the same concepts of Flattery.
If a blogger accepts you in one of their tribes, you might want to ask to be in some of their other tribes as well. There's a strong chance they will invite you to multiple tribes.
Use the Bonfire section to build Triberr reach
Getting the fire started!
Bonfires is a great place to find tribes to join and tribe mates to invite.
You comment on their post in the Bonfire.
Invite them to join your Tribe and leave your link.
Then…
Send them an invite to your Tribe.
For the Tribe Invitation section
Post a comment.
State you would like for them to join their tribe.
Start following the Tribe.
Send a message within the Tribe asking to be a member.
Important Factor for Reach
It is wise to factor the overall reach of individual bloggers.
My reach alone is in the millions so imagine being connected to a group of bloggers that all have reaches in the millions.
It opens the doors for a lot of possibilities and opportunities.
Bloggers are the celebrity rockstars of the online world. That is why you see many of these larger companies reaching out to bloggers for advertisement.
How To Be Active In Multiple Tribes
 
Staying active in multiple tribes is a lot simpler than you think.
Start A Tribe
This will be your main "focus tribe"
Invite popular and active bloggers from each of the current tribes you are in.
Now Comment
The commenting rules were recently changed so it is not as easy but still can done. Comments now have to be longer and are monitored more.
Once you have a bulk of these bloggers in your tribe, you can begin to stay active in multiple tribes by commenting.
When you post a comment, it is displayed in all tribes that contain that post.
So by going through, sharing, and commenting on all of your tribe mates posts, this will give you the appearance of being active in all of those tribes.
By doing this, you should have more time to make it to your other tribes to comment and share content as well.
Many tribes have a lot of the same active bloggers which is a good for those tribes and even better for you.
If you don't have a lot of these active bloggers in your tribe, you can join a tribe that does.
Then just simply use the same techniques described above.
Now you have time to bounce around and be active in your other tribes.
How To Get More Content Shared
Sharing is Caring
I'm still learning the importance of sharing on Triberr.
The more you share others content, the more others will share your content.
The cool thing about Triberr is that you can share on multiple social platforms.
This is one reason I promote participating in tribes that are geared toward sharing on social networks.
Some great examples are:
• The Stumblers Tribe
• Sharing on Facebook Tribe
• Sharing on Google Plus Tribe
• Sharing on LinkedIn Tribe
• Connecting on Pinterest Tribe
 
Even though Triberr already has the above options, I think it's still good to be a part of tribes that focuses on a specific social media network. This will insure your content to be shared on your preferred social network.
How to Share
On the Blog Post, click the share option.
You then can choose from a list of social networks.
Then just share the content on whatever network you want.
Bloggers can see you shared their content, but I found it to be more effective to let the blogger know you shared their content and on what social network you shared it.
Again be careful with commenting
You want to make sure it is not a short two word comment. You can get in trouble with Triberr for short comments. Trust me; it's no fun being in Triberr jail.
Recap
Joining tribes that share on multiple platforms will guarantee that your content will be shared on many different social media networks. This not only brings more traffic, but it looks good to the search engines.
Create a Retweet Tsunami
Want to Be Retweeted?
No Problem
Open the flood gates and let the retweets flow.
One man simple concept to increasing your retweets.
Retweet More
More Retweeting= More Retweets
There's nothing like seeing a post you worked hard on retweeted.
You appreciate the retweet, so you return the favor.
People will retweet and follow you, the more you retweet their content.
It's a Win Win Twitter relationship.
Why This is Good
When others retweet you…
These retweets go out to their followers, which now puts your content in front of new viewers and possible visitors to your blog.
When their followers retweet that same tweet, this same process happens, so on and so forth.
Creating a Retweet Tsunami
Like videos, post, pictures, or anything else online, you just never know which tweet is going to go viral.
If you build your reach, you build your income potential.
Very Simple – No Rocket Science
If you have more viewers/visitors, you have a better chance of more product exposure.
This maybe an increase in …
– Affiliate Sales
– Adsense Checks
– Products sold by you personally
– Books
– Services
– Whatever you are promoting
 
This is one of the main reasons I focus on quality and quantity.
In some cases more is better.
Also check out the campaigns located at the top of the navigation bar.
The campaigns will list the requirements. An application will be provided as well as a minimum payout.
Networking
It is a good idea to network…Network with other bloggers and ask questions about blogging and other writing opportunities.
Post
Include your services or products in your blog post.
Affiliate Offers
Offer other tribe mates affiliate payouts for selling your products or services.
If you need more assistance you can email me at kenny_boykin@yahoo.com or text me at 937-529-8067 for a 15 minute Free Consultation.
If you need more time or help with blogging, making money, business start up information, or social media attention, contact me to set up an appointment. I look forward to hearing from you.
Thanks
Kenny Boykin
www.kennyboykin.com