Speak It! Part 4 – Create Profitable Blog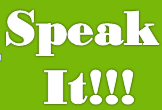 Speak It
Content Rules
Content should be the main focus of your blog.  Your blog will be as good as the content you provide.  Bad content = A Bad Blog.  It's not how many pages or posts you can put up but the number of good posts and pages you have.  You want to have people excited to move to the next post or page.  Repeat visitors should be the main goal of your blog.
That's one of the main reasons you should blog about something you know a lot about or something dealing with your passion.  It will be easy for you to come up with great content.
BE HONEST
The money is made within your content.  If you are promoting or selling things you know don't work or don't believe in, that will absolutely kill your Blog. 
Just don't do It!  It's not worth the pay out. 
On a flip side
When you find  great products, books, services, etc
 Be sure to share that with your viewers.  This will bring you some amazing results.  Your blog traffic will increase.  People will also share your content. 
Your visitors will want to see what other great recommendations you have.  Not only will you make more money but this will build your credibility.  Your visitors will begin to trust you and buy from you even more. 
For example (True story)
I already had a website, but I wanted to Start a Blog as well. 
Where to Host this blog was a main concern of mine.  So as I was doing my research, I keep seeing the same recommendations for BlueHost everywhere.
I finally ended up at one of my favorite blogs and saw he was also recommending BlueHost. 
To make a long story short, because I had previously bought other recommended items from this guy and received great results, it was a no Brainer.  I went ahead and purchased my Hosting from his affiliate link.
Not Finished yet….The power of great content
BlueHost was perfect! It had the one click WordPress setup option.  I didn't have to do all that manual stuff, I was just happy about the Hosting. 
So now I was like Hmm.. Where do I go from here? 
I want my blog to be EPIC!
I went back to this same blog where I received the BlueHost recommendation because I knew from past experiences he gave great recommendations.    I saw he was recommending BlueHost.  He was not only giving a simple recommendation but really promoting and giving great reviews about this BlueHost.
You already Know.. Yep.. Sure did, I went right ahead and purchased that from his affiliate link.
I was Super Amazed and happy with this tool/service.
Now I can't stop raving and promoting this guide myself.
Let's do a recap on how that great content and great recommendations led to getting not only multiple purchases from his affiliate links but also converting me into a repeat visitor, repeat customer, and walking advertisement for his Blog.
1st – Starting with great content and information
Because his content was good and very informative, I went to his blog to look for some information.
2nd – Great recommendations
His first recommendation brought me great results so it was very easy for me to trust him a second time.  When you provide your visitor with 2 or more great recommendations, they will basically purchase anything you promote because they know without any doubt it will truly help them. 
Before I even wrote these pages, still being in the process of setting up my blog, I was talking to a few of my friends.
 I was letting them know about these 2 new discoveries.  Because I've already told them about other great products in the past that led to results for them, they was like (in their voice. LOL) A Bro send me the links.
Not even ready to promote from my blog, I had to hurry up and find these affiliate links to send. 
That's just an example of the power of great recommendations.  Just think, really think, about the great service you can provide and the money you can make by having all different types of products and services you promote.  The Key To It All is to BE HONEST!  Keep your visitors first and the money will follow!
Free Goes A Long Way
Don't always look for the instant pay out.
I'm not saying don't monetize from your pages and post.  But it's also good to still share information and recommendations even if you are not getting a payout. Your overall goal is to build repeat visitors and trust.    When building repeat visitors, the money will come.  It may not be on their first, second, or 3rd time visiting, but eventually they will purchase from you or click an ad or however you are monetizing from your blog.  If you have a great post that is all information and no ads or affiliate links that is Ok.  As long as it's something great for your visitors.
You've Heard It a Million Times but Content Is King
Kenny's Honorable Mention
BlueHost– The best place to Host your Blog (my opinion)
Keep your Content First– money will follow.
Give great recommendations
BE HONEST 
Like, Share, and Comment!
Let me know what you think?
Also don't forget connect with me on other social medias as well
List of 150+ Social Media Networks!!!