Things to do in Atlanta on Sunday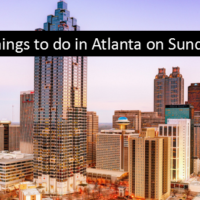 Things to do in Atlanta on Sunday
Check out a farmers market
9 Great options to choose from
Grant Park
East Atlanta Village
Freedom Farmers
Ponce City Farmers
Community Farmers
Sweet Auburn
Brookhaven Farmers
Decatur Farmers
Wetbar – W Downtown
Very nice,
Pool,
Music,
Only thing is you will have to ask someone for the PW
Cineprov Mocks Movies 7:30
Historic Plaza Theater
Very funny live commentary on old bad movies
Soul Cypher at Wonder Root
82 Memorial Drive Southeast
Very cool cypher
Bowling
At almost all bowling alleys, Sundays are great day to go.
Skating
Skating is another fun option. Atlanta has some of the best skating rings in the country.
Enjoy the Out- doors of Atlanta
Sunday Night Life
Please let me know if you have any great options to add to this list in the comments below! 
Thank you for sharing!