Work from home Moms needed!!!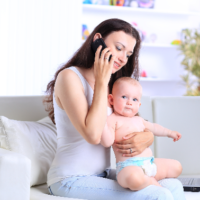 Work from home Moms needed!!!
For my Moms who want to work at home and make full time or extra income
I wanted to share with you a way a lot of ladies are making money at home.
You do not have to have a big time degree or work a big time corporate job in order to make $100,000 or more a year.
The Product is nothing new under the sun, nor is it something many women don't already think about every day. 
Weight Loss
Something that will always have a need
Now I have to be honest
I was very skeptic when wife came home saying she wanted to be a part of this group.
She explained to me it was fitness, self-improvement, positivity, and weight loss.
Me:  Oh lord here we go
Me:  Oh ok Babe, sounds great but how is this going to bring in money?
She explained the products, system, and how everything works.
Me: Ok Go on
Then she hinted on the most important factor
It's all about the group you join!!!
To be a Winner, you have to surround yourself with winners.
Me:  Ok Babe go ahead if that will make you happy.
She was on one of her meeting calls, so I was ease dropping to see what really was going on.
I heard one lady getting congratulated on hitting the $50,000 a month goal and then another, after another, after another. 
Still listening I heard them congratulate the name of girl that was in my wifeys "group" that goes to church with us. 
The congratulated her on moving up to $9000 a month in such a short time. 
I was wondering how her and her husband was able to quit their jobs.  Next they congratulated wifey on having a big first month. 
By now I'm like WoW!
They are doing this from their phone and Facebook!
I had to share this!
So ladies if you are interested in working from home and with your cell phone, please reach out to me through the comments below or any of my social networks or
It does not matter if you have done a work from home job before.
It's all about the group you join (your team).  They are collectively working together to make money.
No one is alone!
I repeat No one is alone!!!
They are currently in the process of adding 10 more people to the team.
I figured I would put this out to my readers first.
This is exciting stuff, my whole attitude toward this have changed dramatically.
If you would like more information please comment below, contact me, or connect with Jasmine Pratt. 
Please be sure to tell her Kenny Boykin sent you.