Start A Blog in Minutes!!!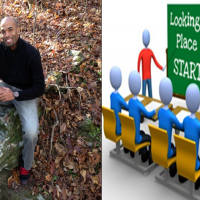 Start A Blog in Minutes?
Here is the Best Place to START!!!
How to Start a Blog?
Starting a Blog is easier than you think.  It's actually very simple.
I always promote WordPress.  WordPress is a free platform that has a ton of free plugins.  You can use these plugins to make your blog look Goooood!!!
One way you can start your blog is to go to WordPress.com, sign up, and lock down a space.  Next you want to head over to GoDaddy(Click Here For Link) and get a domain name.  You want to have your own domain name. It's important for your blog's name to stand out.  www.wordpress/notcoolblog844112254.com is Not Cool.
Something like this www.notcoolblog.com looks a lot better.
If you are serious about blogging and want to make money, I highly suggest choosing the Hosting option (You want to own your own Blog).  If nothing else, do yourself a favor and get your own domain name.
OR
You can use a service like BlueHost(Click Here for Link), where you can get everything done in one stop for cheap.  I used BlueHost to build and power KennyBoykin.
From BlueHost I got everything I needed all for like 5 bucks a month.  It was a no brainer.  I spend more than that on a combo meal at McDonalds, why not invest in myself.  Also I had the blog up and running in less than 10 minutes.  I used the one click WordPress setup option.
How to set up WordPress Blog?
If you already have a WordPress blog and want to Migrate it, you can do that too through BlueHost
Here's How
Now that you have your blog up and running, let's make some money.  Here is a tutorial guide on how to create a profitable blog from scratch.
Create A Profitable Blog from Scratch
We will cover 7 Easy Simple Concepts to Create A Profitable Blog from Scratch!
More Helpful pages
How to Add Categories to WordPress
How to Add About Author to WordPress
How to add Bing Webmaster Tools to WordPress
How to add Google Webmaster Tools to WordPress

Kenny's Honorable Mention

BlueHost– Great place to get domain names, hosting, and set up your blog.
GoDaddy– Another great service to start a blog.